Genus IntelliGen Technologies Usage Guidelines for Trademarks, Copyrights and Brands
Philosophy on trademarks and brands
Genus IntelliGen® Technologies ("IntelliGen") trademarks and brand are the intellectual property of Genus plc or one of its subsidiaries ("Genus"). IntelliGen trademarks are an important part of creating and maintaining equity in the IntelliGen brand. These guidelines govern the use of all IntelliGen trademarks and brands in any and all public advertisement, publications, presentations, newsletters, documents, and other communications, regardless of form (e.g. written, electronic, verbal, video, photograph, etc.).
Who do these guidelines apply to?
IntelliGen trademarks may only be used under a valid trademark license from Genus. Use of IntelliGen trademarks are subject to these guidelines and any other terms agreed under your trademark license. Please note that:
Trademark license agreements may be stand-alone or embedded in a supply contract, services contract, technology license, distribution contract, or other written IntelliGen agreement; and
Use of IntelliGen trademarks is limited to those trademarks specified in your license agreement.
Please direct any questions regarding these Trademark and brand Guidelines to: Kylene.anderson@genusplc.com
IntelliGen Technologies Trademarks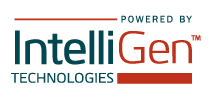 When to Use IntelliGen Trademarks
Powered by IntelliGen Technologies Logo: When marketing or making other public reference to sexed genetic products created using the IntelliGen technology, always reference the IntelliGen technology as follows:

The "IntelliGen" trademark must be used as the Powered by IntelliGen logo where ever practical;
The IntelliGen logo must appear in equal size to Licensee's sexed semen brand name; and
If not practical to use the IntelliGen logo, licensee shall use the or as "Powered by IntelliGen[®/™] Technologies" tagline, displayed prominently, in a manner that it would be clear to a typical audience member that Licensee's sexed semen product was produced with the IntelliGen technology.
Intelligen/IntelliGen Technologies word marks: When marketing or making other public reference to the IntelliGen technology, process, or processing services, use the "IntelliGen[®/™]" or "IntelliGen[®/™] Technologies" trademarks.
GIGT: the "GIGT™" trademark must be printed on any straws of sexed semen produced with the IntelliGen technology or (where permitted) packaging of any other sexed genetic products produced with IntelliGen processed sexed semen (e.g. embryos).
See "Other Aspects" / "Design Guidelines" / "Color Palette" for design, placement, and other details on use of IntelliGen trademarks.
Review of Materials
You are required to provide copies of any marketing materials or other materials you wish to use publically that reference the IntelliGen technology or any sexed genetic products produced by the IntelliGen technology at least 10 business days before your intended date of use.
Translation in English must be included with any non-English materials.
When providing the material, specify the venue of use and target audience.
Material submissions shall be provided to Kylene Anderson at kylene.anderson@genusplc.com
Other Aspects
IntelliGen will provide you with a high-resolution electronic file of the "Powered by IntelliGen Technologies" Licensees shall only use the provided file in using the logo and shall not screenshot or otherwise copy the IntelliGen logo from other public materials.
You may not combine the logo with any other object, including, but not limited to, other logos, words, icons, graphics, photos, slogans, numbers, or other design elements in a way that implies origination from a source other than IntelliGen Technologies
The approved color versions of the Powered by IntelliGen Technologies logo are provided by the IntelliGen marketing department.
Do not incorporate IntelliGen Technologies trademarks or logos into your own product names, service names, trademarks, logos, or company names, and do not adopt marks or logos that are confusingly similar to IntelliGen Technologies marks and logos
GIGT on Packaging
Straws need to be marked with GIGT, in a font equal or larger than any other font on the packaging. The marking has to be on opposite side from the straw plug.

Pantone 3165 C
PMS 3165 C
CMYK: 100; 14; 0; 65
sRGB: 0; 77; 90
Hex: #004D5A

Pantone 7620 C
PMS 7620 C
CMYK: 0; 75; 77; 26
sRGB: 189; 47; 44
Hex: #BD2F2C